For a while there, ukulele seemed like a fad, but more than a decade on, it hasn't gone away and doesn't look like bowing out. The reasons for this are multiple, but I think universally human aspects such as belonging, bonding, gaining confidence, achieving and enjoying the brain's reward responses from playing music together are what sustains group ukulele playing, in particular. This is reflected in some facts and figures from around the traps…
Retail statistics from the US are a good indicator given its big population and location of some of the world's biggest ukulele brands and famous players (ok, Canada is close by…!)
Ukuleles - retail value and units sold in the United States 2009 - 2014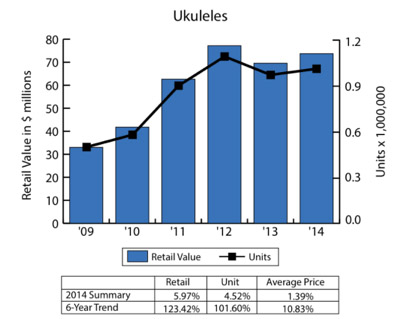 Source: National Association of Music Merchants 2015 Global Report
Number of ukuleles sold in the United States from 2009 to 2016 (in thousands)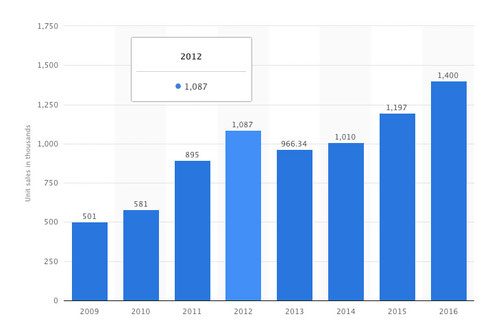 In 2012, annual sales surpassed one million for the first time.
This article from the CNN Money site in 2014 gives interesting insight into the buying habits of ukulele players and the huge influence of ukuleles on the income of music shops. As a music shop owner quoted in the article states:
"My definition of a fad is something that climbs, spikes and dies, […] this climbed, spiked and now it's sustaining that same level."
Who's playing?
UK product reviewer and 'professional hobbyist' Barry Maz from Got a Ukulele compiled a list in 2012 of the percentage of total hits (although not sure whether he means visitors, pages, or files downloaded) from the top ten countries that have engaged with his site:
USA - 53.1%
UK - 27.9%
Australia - 6.0%
Canada - 5.1%
Germany - 2.3%
New Zealand - 1.5%
Thailand - 1.3%
France - 1.1%
Singapore - 0.9%
 Italy - 0.7%
Although this isn't a definitive representation of global ukulele playing and there would be a host of biases and variables, it's still an interesting sample as the site ranks third in the Top 100 Ukulele Sites directory after Ukulele Tabs and Doctor Uke.
Barry also worked out rankings as a ratio of hits per head of population, which gives a somewhat different outlook (with my editorialising):
UK (uke-mad and/or combing through every page and downloading every song sheet on the site)
New Zealand (always punching above their weight)
Australia (consistent)
Singapore (small population and geographical area, at least seven stores selling ukes and some offering group and individual lessons)
USA (big population)
Canada (just seeing if there's anything they don't already know)
Italy
Germany
Thailand
France
'Top 50 Ukulele Sites', the directory that was run by Boat Paddle Ukes but is now hosted on Curt Sheller's site and renamed 'Learning Ukulele Sites', used to show statistics for sites which had the highest visitation worldwide. For a while, the top positions were shared amongst Ukulele Underground, Ukulele Hunt and Richard G's Ukulele Songbook.
Not long before the changeover, number one by a very large margin was a Chinese site, ukulelecn.com. Of course many of the major uke brands are manufactured in China and the massive Chinese e-commerce site Alibaba has close to 18,000 listing for ukuleles and accessories like bags, strings, stands and tuners.
Although I found very little information online about ukulele take-up in China (and I can't read Mandarin), the population, the availability of the instrument and the previously high ranking of the aforementioned site indicates that it could be popular there.
For around the past five years, Hong Kong has really taken to ukulele. There's a music store called Hong Kong Ukulele Association, a music school called Ukulele Federation Hong Kong and the instrument is being taught in schools. An article from the South China Morning Post sums up the situation:
Five reasons why ukulele is the perfect Hong Kong instrument
At just 53.5cm long and 16.4cm wide, the standard soprano ukulele is ideal for our space-challenged city:
You won't get stopped, harassed or followed by MTR (Mass Transit Railway) staff when you take one on a subway train.

It'll fit easily into your 176 sq ft microflat without touching the walls when you play it.

You don't need to buy a mini version for your three-year-old - and she'll stand out from the kindergarten crowd because she's not playing a violin.

When a learner's chords are a bit off, it's much less painful to bear than those on most other instruments - especially the recorder.

You can easily take it to the beach - so says Hawaiian professional player Taimane Gardner (who was performing the following week in Hong Kong).
It looks like this bandwagon will be stationed in the main thoroughfare of many towns and cities in the foreseeable future, with all welcome to jump on board!
Photo: Magic Fluke Company